Limited Warranty
We provide Limited Warranty coverage for all our products. Please register your warranty online to activate your free warranty coverage in Warranty page.
For more enquiries, please contact:
Acson Malaysia Sales & Service Sdn Bhd
No.7A, Jalan 13/4, Seksyen 13, 46200
Petaling Jaya, Selangor, Malaysia.
Customer Careline : 1300-22-3344
Fax : +603- 7956 9907 / 9
Email: acson@acson.com.my
Acson Malaysia Sales & Service Sdn Bhd (Acson) guarantee that our product is free from manufacturing defects in material for a period as specified below from the date of purchase under normal use & service.
NO.
CONDITION
WARRANTY
1
Purchase of Acson indoor & outdoor together:
Compressor (outdoor unit 65,000 BTU/h & below) **
Compressor (outdoor unit above 65,000 BTU/h) **
Other parts

5 years
1 year
1 year
2
Purchase only Acson indoor/outdoor & couple with Acson brand outdoor/indoor unit
1 year
3
Purchase only Acson indoor/outdoor & couple with other brands
No warranty
4
Purchase of freezer & other Acson product unit:
a) Compressor **
b) Other parts

5 years
1 year
5
Purchase of Acson MOVEO portable air conditioner:
a) Compressor **
b) Other part

1 year
1 year
67
Purchase of Acson Car Air PurifierPurchase of Pureo (Air Purifier), Aroma Diffuser, USB Table Fan
6 months1 year
Remark:
**Acson will provide free workmanship for replacement of faulty compressor during the first year of warranty period. 
**Compressor within 30,000 BTU/h to 65,000 BTU/h warranty will extend to 5 years effective from 1 May 2018. 
**For remaining years of the warranty period, Acson will only provide the compressor & all replacement expenses will have to be borne by the customer. Customers have to engage Acson Authorized Dealer to provide the replacement job for compressor.
Warranty Conditions
| | |
| --- | --- |
| 1) | The warranty must be registered within ten (10) days from date of purchase. |
| 2) | The warranty certificate/card is irreplaceable in the event of loss and is non-transferable. |
| 3) | This warranty only covers Acson product serviced by Acson authorized dealers and is valid only in Malaysia. |
| 4) | The warranty certificate/card must be presented in the event of a claim. Upon presentation of the warranty certificate/card, all defective parts shall be repaired or replaced during the warranty period. Acson reserves the right to make the final decision on the repair or replacement of the said defective parts. |
| 5) | The compressors and parts guaranteed are subjected to the following conditions: |
| | a)Provided that, the product unit is serviced by Acson Authorized Dealer regularly during full warranty period at the customer's cost. The customer must enclose proof of such routine servicing when lodging a claim with Acson.b)Non observance of clauses 5(a) will render the guarantee on the compressor and parts null and void.c)Provided that, in the case of all air conditions, all refrigerant fields piping is required to use new seamless copper pipe for air conditions suction and liquid line according to the manufacturer's standard size. |
| 6) | Under the following circumstances, parts & compressor will be chargeable even during the warranty period:- |
| | a)Fail to present the warranty certificate/card at the event of claim.b)The warranty certificate/card is soiled, altered or otherwise tampered with.c)The serial number of product unit or compressor has been altered, tampered with or removed.d)The product unit has been tampered with, subject to misuse, negligence and damaged while in transit.e)The product unit has not been installed, maintained or operated in accordance with instruction given by manufacturer.f)The product unit has undergone repairs, modifications or connections prior to authorization by Acson.g)Defects are caused by abnormal voltage or the in-coming power supply is from a generator.h)Defects are caused by fire, lightning and other natural disasters or where defect is due to deviation from recommended application and installation.i)Defects are caused by household pests such as lizards, rat, cockroach, etc.j)Defects are caused by unit installed near to sources of oil mist in which may adhere to the heat exchanger and results in heat exchange reduction, water mists & spitting, etc.k)Defects are caused by chemical reaction, excessive heat, excessive dust, corrosive surroundings, such as cement factory, animal farm, etc. |
| 7) | This guarantee does not cover any losses and damages caused directly or indirectly by breakdown / malfunction of Acson product unit and all other warranties / guarantees expressed or implied other than those mentioned above. |
| 8) | All guarantee not expressly stated herein whether implied by law or statutes are hereby expressly excluded. |
Car Air Purifier & Aroma Diffuser Warranty Claim
3 Easy Steps To Make A ClaimStep 1: Notify Acson Malaysia immediately for any issue happen on the product.
Step 1: You may contact us at +603-7964 8387 or FB message us at Acson Malaysia. Preferable to have photo or video record for our further understanding. If the issue couldn't be troubleshoot through the conversation, kindly proceed to step 2.
Car Air Purifier (ACAP10A)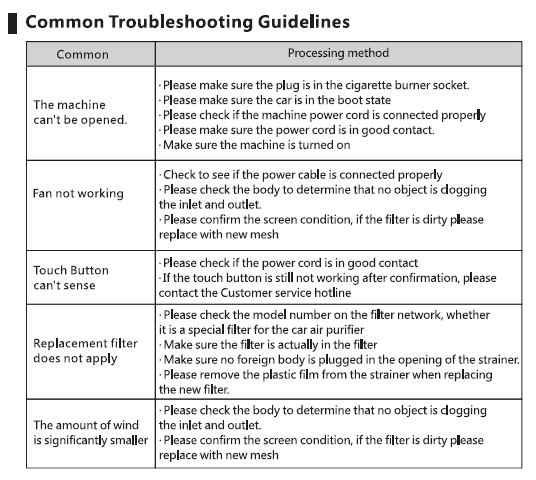 Aroma Diffuser (AAD13A)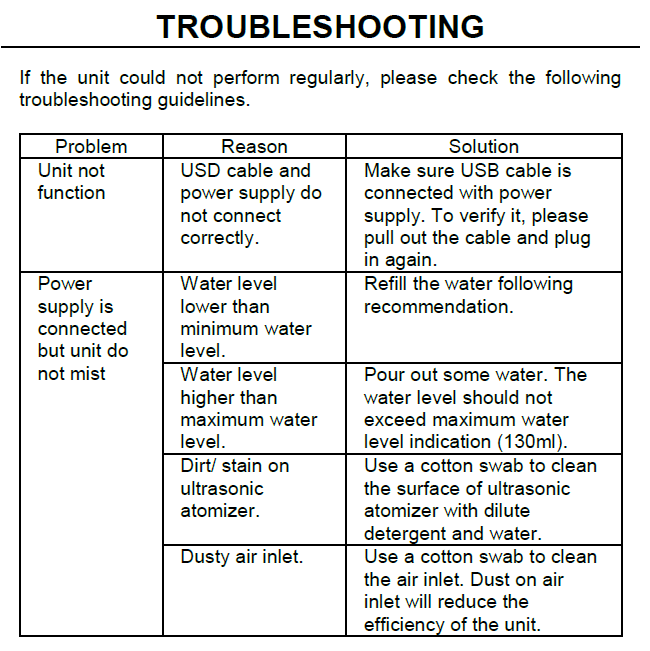 Aroma Diffuser (AAD20B / AAD20C)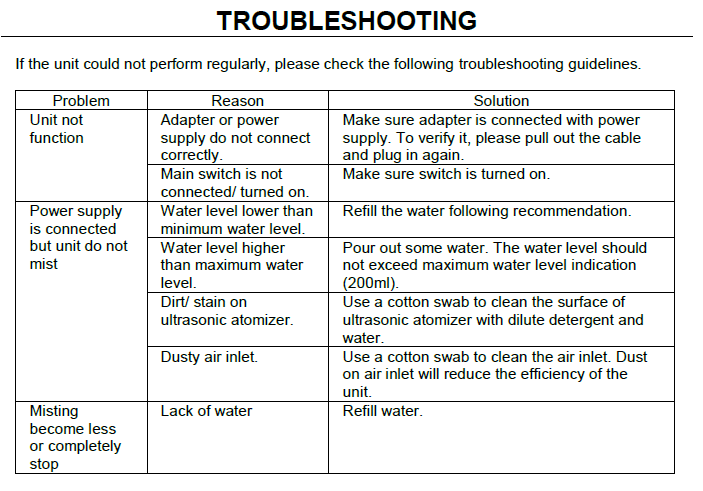 Aroma Diffuser (Acson USB Table Fan)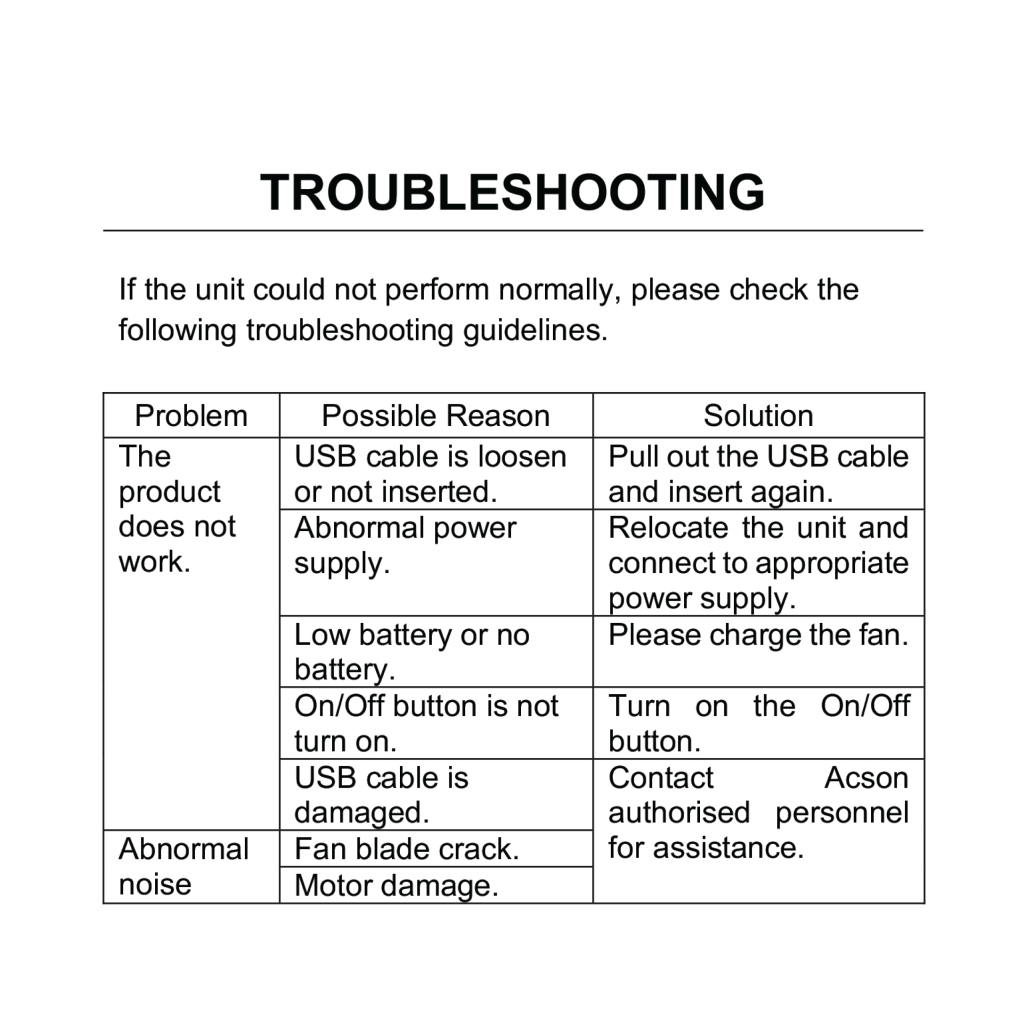 Step 2: Customer walk in to Acson HQ/branches and bring along the defect product with warranty card.
Business hour from Monday to Friday (exclude public holiday), 8:30AM – 5:30PM.
| | | |
| --- | --- | --- |
| State | Address | Tel. |
| Acson HQ (PJ) | No.7A, Jalan 13/4, Seksyen 13, 46200 Petaling Jaya, Selangor Darul Ehsan, Malaysia. | +603 7964 8200 |
| Penang Branch | No. 70, Jalan Perda Utama, Bandar Perda, 14000 Bukit Mertajam, Pulau Penang. | +604 537 7176 / +604 537 7177 |
| Perak Branch | No. 29, Medan Soon Choon 1, Jalan Raja Dr. Nazrin Shah, 31350 Ipoh, Perak. | +605 312 9828 |
| Kelantan Branch | S/25 721 Taman Maju, Jalan Sultan Yahya Petra, 15200 Kota Bahru, Kelantan. | +609 740 5233 /+609 740 5244 |
| Melaka Branch | No. 121, 121-1 & 121-2, Jalan SP1, Taman Semabok Perdana, 75050 Melaka. | +606 292 6196 /+606 292 6197 |
| Pahang Branch | B-104, Jalan Haji Ahmad,Perkampungan Sekilau,25200 Kuantan, Pahang. | +609 517 8696 /+609 517 8697 |
| Johor Branch | No. 112., 112-01 & 112-02, Jalan Rosmerah 2/17,Taman Johor Jaya,81100 Johor Bahru, Johor. | +607 355 1599 /+607 353 9331 |
| Sabah Branch | Lot 11, Pusat Perindustrian Ngee Lim,Lorong Burung Keleto,ML 5.5 Off Jalan Tuaran Inanam,88450 Kota Kinabalu, Sabah. | +6088 420 205 |
| Sarawak Branch | No. 40F, Lot 9737, Section 64, Jalan Mendu, 93200 Kuching, Sarawak. | +6082 344 128 |
Step 3: Acson Malaysia will check and repair the defect product within a reasonable time at Acson HQ / branches. The warranty service is provided free of charge if the defect product is under warranty. However, for over warranty claim, we would provide free checking and minor repair which does not include spare part.