Description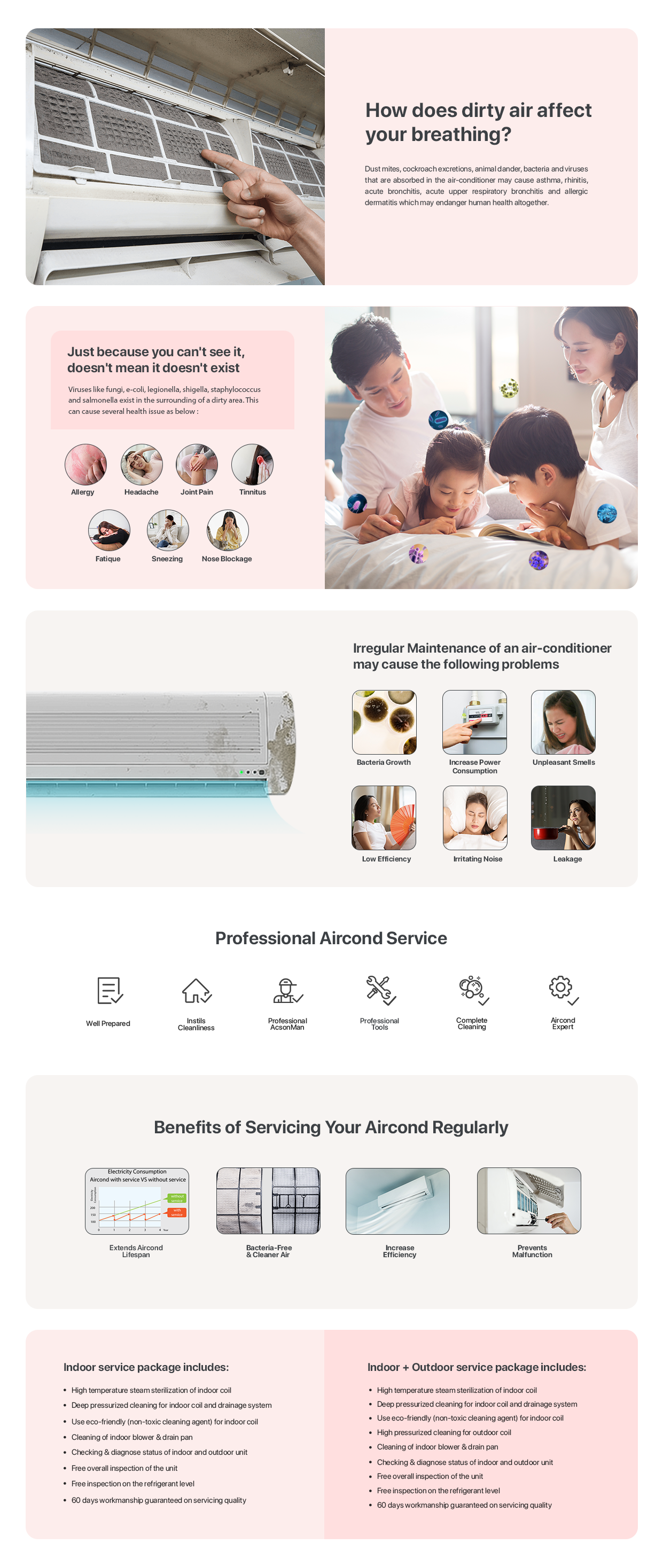 Terms & Conditions for Acsonman Premier+ Aircond Cleaning Service:
Five (5) working days arrangement needed. Service time and date is subject to availability of service provider. Our technical support and operation team will contact the customer for the service confirmation within two (2) working days after order accepted. No service during Sunday & Public Holiday.
For the aircond cleaning service of indoor +outdoor unit package, both indoor and outdoor unit must be cleaned together for the same unit and cannot be done separately on two different types of wall mounted
For high-rise buildings, we may be unable to fulfil your job request on weekends due to entry restrictions. Kindly obtain the relevant permissions from the residential management before booking.
Service locations are limited to state and selected city only; refunds will be made if your location does not fall under the service area.
Service must be made within 4 months from the date of purchase date.
Additional cost may incur for out-of-scope services.
The service is inclusive of 60 days workmanship guarantee. The workmanship guarantee only for those units having problems after servicing such as unit not cold, unit leaking, etc. The workmanship is not cover those problems caused by the component issues, surrounding condition, etc.
In the event where Acson authorized service provider is unable to proceed with the cleaning service at the provided address located within a high rise building, or being denied access to air conditioner unit due to unit placement, such as bars/ frames blocking the air conditioning unit, customer shall be responsible to resolve such issues with the building owner. If the customer fails to resolve the issues or if Acson is unable to proceed with the cleaning within the validity period not due to the fault of Acson, Acson shall at its absolute discretion be entitled to cancel the cleaning service.
Acson Malaysia has the right to substitute the service for an Acson product of equivalent value in the case the service location is not accessible or doable.
Reschedule of air cond cleaning service will only restrict to 1 time. The rescheduled service cannot be cancelled and must be a minimum of 24 hours from the current time.
Any free gift for the package purchased will be delivered within 5-10 working days after aircond cleaning service is completed.
For matters of workmanship guarantee, you may contact Acson Customer Careline (1 300 22 3344) or email acson@acson.com.my to express your feedback.